family-albums

25 Years of emotional constipation
mixed media analog photo album/
2018
After artist's block and lack of funds/storage forced me to abandon my studio practice in January 2017, I began to make small, portable art books out of inexpensive materials.
25 years of emotional constipation
is a 40 page family-album that collects photos taken by me and my mother, which I embellished with gel pens.
My mother's formidable family-album collection left an indelible aesthetic impression. The typical structure of a family-album commemorates the defining moments of a family's life, whereas my mother documented mundane or private moments with the frenetic energy of a one-woman paparazzi. Whether I was trying to grocery shop or exercise in peace, she refused to put the camera down.
25 years of emotional constipation
appropriates my mother's domestic photos and collates them with shitty photographs from my camera roll. Perfection lacks poetry. In an era of ubiquitous pearlescent digitization, the printed, low-quality photographs breathe, wobble, and fade.
Leading up to my departure from oil paintings, I began documenting my passing thoughts on sticky notes en masse. Although my paintings dominated my creative persona, these half-hazard, de-skilled sticky notes were far more provocative and compelling to me.
25 years of emotional constipation
documents a
threshold
. A threshold is a transition into the unknown. The family-album captures (or rescues) an ontological investigation of my career as a painter, my identity as a Chinese-American, the narrative of victimhood, the painful clumsiness of emerging sexual encounters, and my embarrassment of God.
25 years
… was exhibited at The Re Institute in Millerton, MA in 2019 as part of my "depression kit."
depression kit: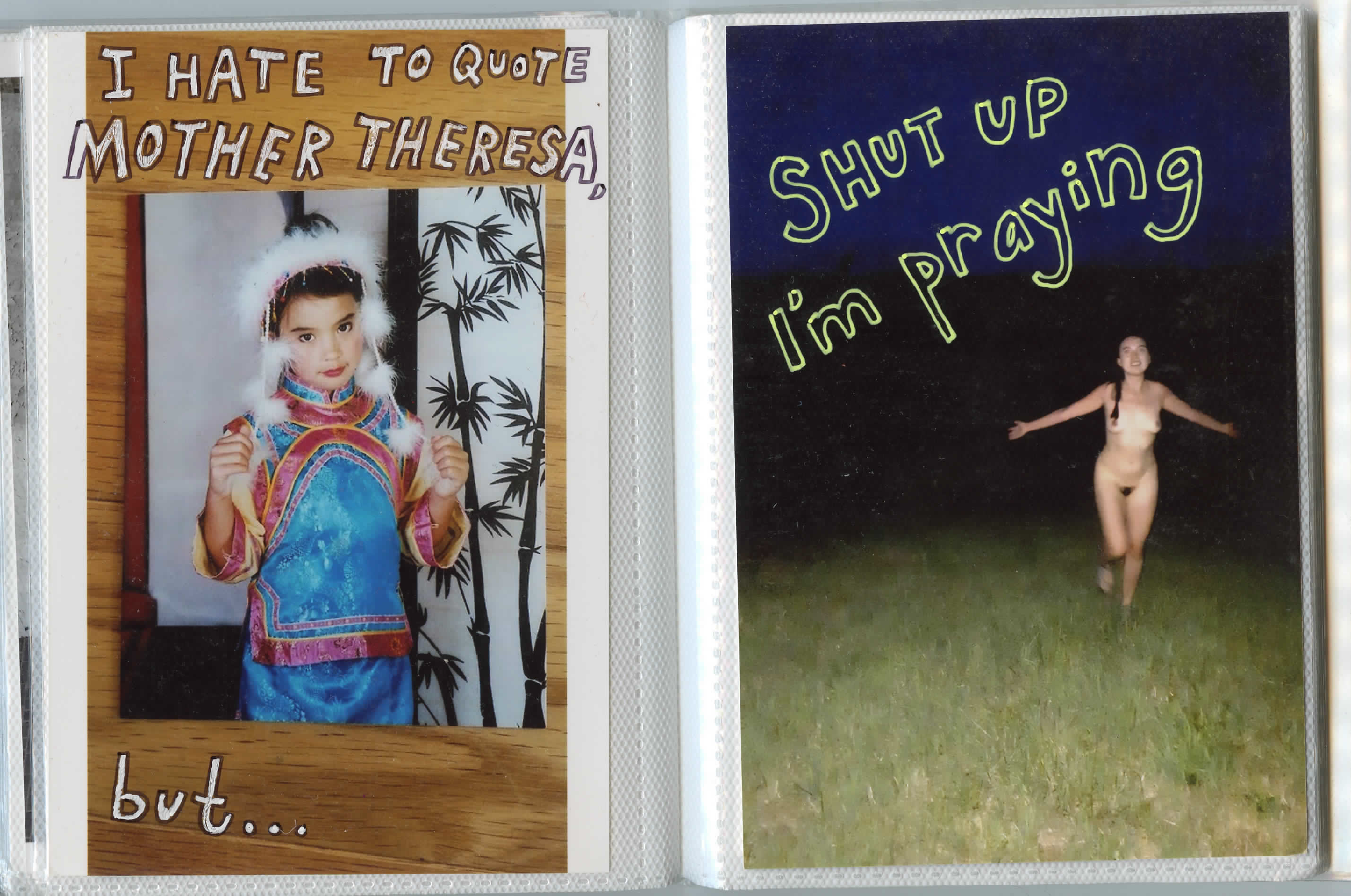 ---
True Anal Stories
mixed media analog photo album/
2018
An excerpt from an ekphrastic art book I made in response to
Amir Badawi's
sculpture, "Things I've Stuck in my Asshole (since age 7)," which was exhibited at Flux Factory in 2018.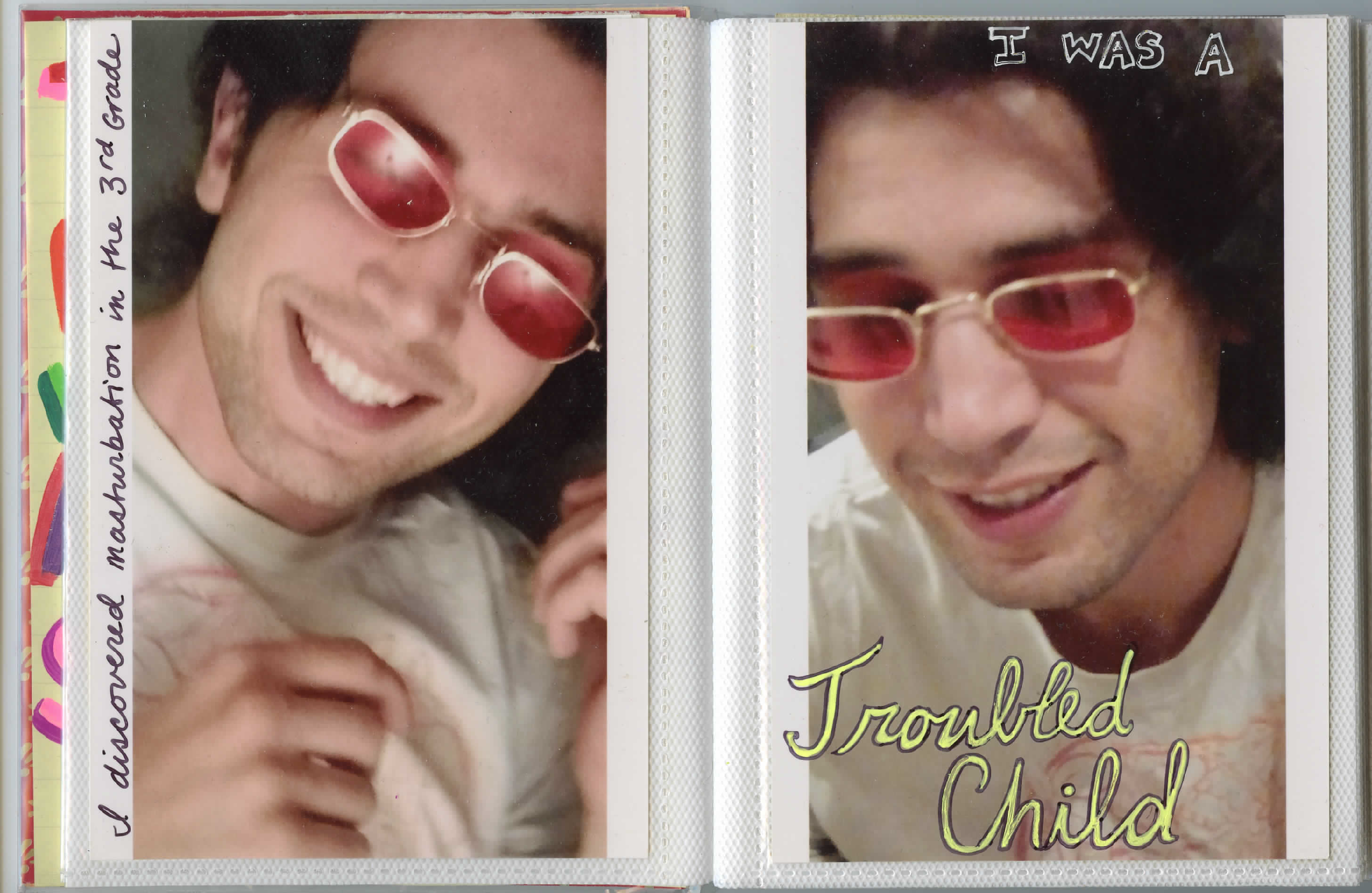 ---
you & me together somewhere in the middle of nowhere, just tenderness and karaoke
family-album memoirs
mixed media analog photo album/
2018
You & me in the middle of nowhere just tenderness and karaoke
was an ode to Flux Factory, a greeting-card-factory-turned-artist-warehouse in Queens, NY, where I lived off and on for two years. I moved into Flux when I was 22, and it was a formative part of my bildungsroman. I was a self-described "Wild Child" who wore face-paint daily to conceal raging adult acne, was in recovery for a chronic eating disorder, and on top of that I had just had a white-light vision of a feminine demiurge. In spite of my apparent madness, Flux ensconced me in their cooperative art community, which meant lots of karaoke, heart-to-heart conversations, collaborations, and spontaneous dance parties under the light of a chicken-shaped disco ball.
You & me
… contains printed photos of "Fluxers," along with solicited lists (i.e. things worth living for) and quotes I recorded. To risk lapsing into full-blown sincerity and quote Mr. Rogers, this album is an elegy to a chosen family that
loved me into loving
.
You & me in the middle of nowhere just tenderness and karaoke
was displayed at
Griffin
, a design store in Great Barrington, MA.
Special thanks to:
Dew Igworia-Onwuka

Jevijoe Vitug

Daniel Fishkin
Amir Badawi
Cayla Lockwood